A couple of years ago I discovered that I have the beginnings of hypothyroidism and needed to cut back, if not cut out, gluten from my diet. After thrashing about on the floor like a toddler for way longer than is reasonable, I decided to explore some recipes that either had a gluten free alternative or that were expressly gluten free. There is a fair amount of research and science arguing the negative effects of gluten on an under active thyroid. My hope in adjusting the amount of gluten in my diet is to naturally heal my thyroid without long term use of medication. As a foodie and a person who loves to bake and cook, I've decided to see this as a challenge instead of a punishment. So, I'm on a journey to discover the best of the best in the world of gluten free.
First up, cookies! I loooove a good cookie. When I found a shortbread cookie recipe that was gluten free?!? I had to try it.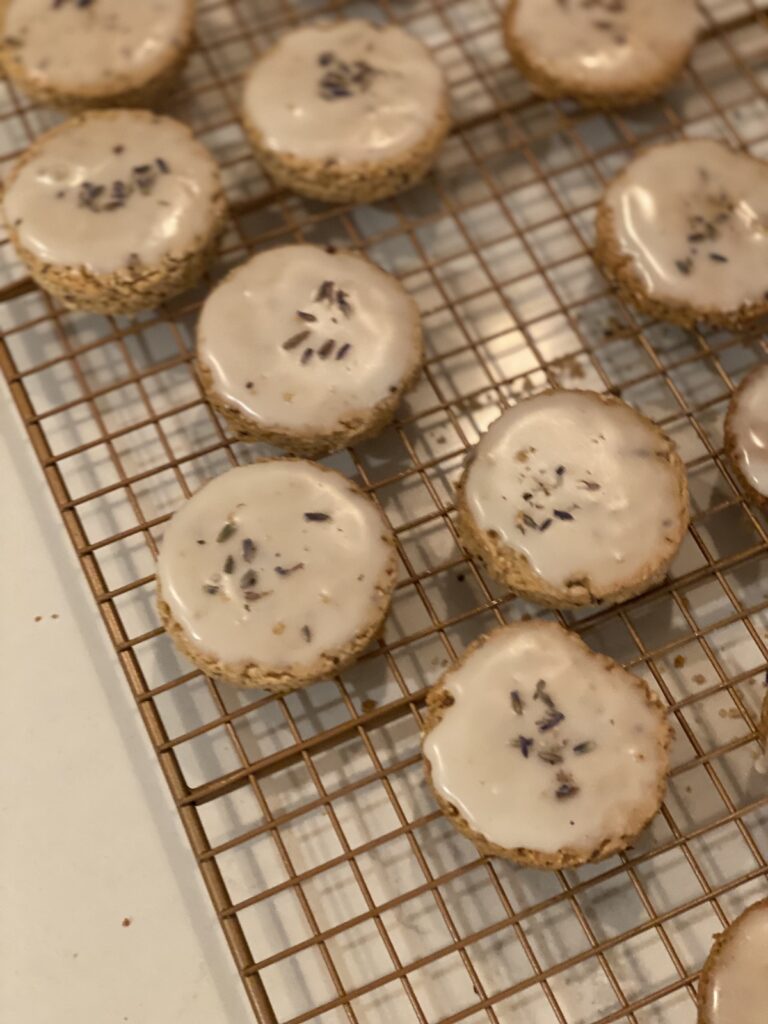 The World Wide Web, especially via Pinterest, has so many good recipes to try. This one, I found while reading the back of my Purely Elizabeth bag of granola. It's pretty simple to make and, yep, it's gluten free. Here is the original recipe which is gluten free and vegan. Below is the recipe with some slight adaptations I made for my family's taste. Give either one a try and let me know what you think.
For the Cookies:
1 cup salted butter, softened
1/2 cup sugar
1 teaspoon pure vanilla extract
1/2 teaspoon pure lavender extract
1 bag Purely Elizabeth Original Superfood Oatmeal
1/2 cup tapioca flour
1/2 cup coconut flour
1 teaspoon baking powder
1/4 teaspoon salt
For the Icing:
1 cup powdered sugar
2 tablespoons plant-based milk
Dried lavender, for garnishing
Let's Bake!
1. Preheat your oven to 325°F.
2. In a stand mixer using the paddle attachment, or a hand blender, cream together the butter and sugar until smooth and creamy. Next, add the vanilla and lavender extracts to the butter mixture.
3. In a food processor or blender, process the oatmeal, tapioca flour, coconut flour, baking powder, and salt until you achieve a fine flour texture.
4. With the stand mixer on low, slowly add the flour mixture into the creamed butter and sugar until well combined. Turn the cookie dough out onto a piece of parchment paper and roll the dough out to about 1/2-3/4 inch thick. Use a round cookie cutter and cut the dough into rounds.
5. Place the cookie dough rounds onto a parchment-lined baking sheet and bake for 14-16 minutes. Allow the cookies to cool completely before icing.
6. To ice the cookies, whisk together the powdered sugar and plant-based milk until smooth.
7. Dip each cookie into the icing face down and then place them back onto the parchment paper. Garnish with dried lavender while the icing is still wet. Allow the icing to set for about 20-30 minutes.